Personalized Gifts For Priests
Whether you're looking for a personalised gift for your Priest, something funny or something religious and commemorative, it's all here!
But before you start shopping check out my tips on how to choose the perfect gift for your Priest.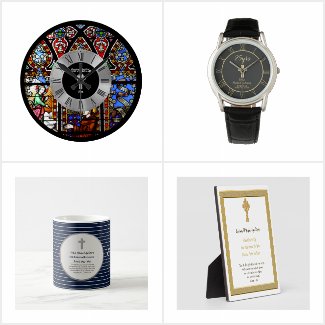 Gift Ideas For Your Priest - where to start
Priests receive many decorative ornaments, icons, rosary beads, candles and other
religious themed gifts
, so many in fact that regettably some may end up in storage rather than on display.
If you want to avoid your carefully thought out gift for your Priest meeting that same fate then read on! The gifts featured on this page and throughout this site cover the best of all worlds. You can gift your Priest a present they will treasure which is commemorative and practical and practicality is what will keep it out of the attic!

Check out this page to fast track Priest gift ideas or browse the site for details on more specific gifts for special occasions (ordination anniversaries , retirement, leaving the Parish etc.).
Let's get started on how you select the perfect gift for your Priest. To skip the detail and fast forward to the store
ENTER HERE
Priest Gift Giving Occasions
There are lots of occasions when you might want to buy your Priest a gift, these include:
Things to consider when choosing a gift for your Priest
1. Budget
Depending on your budget you could buy something as simple and inexpensive (yet practical) as a personalized keychain (less than $5)
which includes commemorative details as required for your gifting occasion. If you want something more substantial you could gift your Priest a personalized,
commemorative watch
. These are very popular for Priests, always useful and literally 'timeless'. A mid range priced gift would be a religious themed
stained glass (print) wall clock
with personalized details.
View the full range of Priest Gift Ideas Here.
2. Occasion
Considering the list above of Priest gift giving occasions you will want to choose something that fits that theme, need. For example a
Priest Ordination Anniversary gift
ideally reflects the number of years the Priest has been ordained, has text template fields to add his name, anniversary dates and a line of Bible scripture or verse as desired. A
Priest retirement gift
might differ slightly in that you wish to include details of the Parish, a personal message from the ministry and more. If the Priest is celebrating a birthday you may opt for a light-hearted humor gift such as a
funny Priest mug or t-shirt.
3. Interests
Priests do have interests outside of the church and you might like to gift them something that compliments those interests and hobbies. Such gift ideas might include something as simple as a personalized deck of cards with a photo of one of the Priest's favored places of worship. Other interest themed idea include personalized golf club covers (if your Priest enjoys a round of golf). A customized jigsaw puzzle is a great idea for Priest's who enjoy puzzles.
Zazzle
(world's largest print on demand store) has a wide range of personalized gifts for various sports and activities from
ping pong (table tennis) paddles
to sportsbags. Any of these with your own custom spin would make a great gift idea for a busy Priest who enjoys his/her downtime.
Priest Gift Ideas
Let's take a look now at some Priest Gift Ideas for specific occasions
1. Gift Ideas For Newly Ordained Priests
This attractive plaque can be gifted to a newly ordained Priest to commemorate the occasion. It features various text template fields for you to add the required details. It also features the following which can also be replaced with scripture, verse of your choosing.
"Tend the flock of God that is in your charge...
And when the chief shepherd appears,
you will win the crown of glory
____________________________________________________________________________
This attractive stained glass themed ornament is an inexpensive celebration gift commemorating this very special Ordination occasion. You can edit the details to include name and relevant date.
There are various other designs to choose from in the store HERE. Other decorative ornaments are text only with template fields to add special greeting, Bible verse or scripture etc.
____________________________________________________________________________
2. Gifts ideas for the Anniversary of a Priests Ordination
The anniversary of a Priests ordination is a very special occasion and is usually commemorated whatever the number of years, however there are some special milestone Ordination anniversaries and these are:
Clicking on the links above will take you to a range of Priest anniversary gifts for those milestone years. Most of the gifts featured allow you to edit the number of years ordained, so you use these same gifts for ANY ordination anniversary.
Priest Installation Gift Buying Guide
You should aim to honor the ceremony of your Priests installation with a gift that suitably marks the occasion. When considering
installation gift ideas
reach outside the box for something your new Priest will treasure. Ideally select an installation gift that celebrates the Catholic faith and has some degree of personalization.
Installation gift options fall into three main categories:
1. Decorative/Ornamental
2. Monetary / Gift Card
3. Practical / Personal
1 . Decorations and Ornaments
The gifts should not be so large that they take up a lot of space. This would rule out pieces of furniture, a large statue, a storage trunk or other item that is similarly big. As such furniture is not a suitable gift choice for the installation of a new Priest.
Where an item is ornamental or decorative keep it fairly small. A
personalized oranament,
plaque, piece of wall art with personalized details related to the installation is a good choice. Ensure the decorative aspects are elegant, minimalist and suited to the nature of the occasion.

Vestments/ Items for Mass
Items such as a stole and other vestments and items for mass can be bought for a Priest which have a more individual design to the ones the Priest may have bought for themselves but bear in mind a Priest has their own taste and as such one should err on the side of caution with this gift option. Consider it akin to buying a family member a jumper, can you be sure it is to their taste? And knowing that's hard enough , imagine doing so for a relative stranger and getting it right. Unless you already have an insight into a special something a Priest may like in this regard, choose another option.
2. Money/Gift cards
Money is an acceptable gift properly packaged inside a 'welcome' card, however a gift card is more so. You can buy simple cash gift cards via Amazon or specific gift cards for books, music or specific stores. As a new Priest to your Parish, keeping the gift card neutral regarding how it can be spent is preferable.
Some Priests may have a gift registry where they can register items they'd like or need. This is a good idea and saves multiple versions of the same gift option (which can happen) resulting in the gifts being returned, re-gifted or hidden away in storage.
3. Practical / Personalized Gifts
I have used these two gift themes together as with more and more products available with customizations, there is little you cannot buy that can't be personalized for your Priest in honor of their installation.
From personalized journals (they can record their thoughts, plan, note down favored Bible passages, verses) to personalized
Priest themed stationery
such as clipboard, stationery holder, desk name plate, door plaque and so on. Zazzle offers many practical Catholic themed gift options for Priests, all of which can be personalized. You can view some of them here.
You can buy wonderful leather bound Bibles from Amazon with personalisations. See below for those along with other personalized Gifts for Priests that are suitable to give for installation.
Special Recommendations
I have heard that Priest's welcome travelling mass kits like this one available via Amazon. Having a travelling mass kit means a Priest doesn't have to visit a church to have mass, he can have it wherever he is, whether it be a home or hotel. See below for one of those - popular on Amazon.