Gift Ideas for Priest - Ordination Anniversary Clocks - Personalized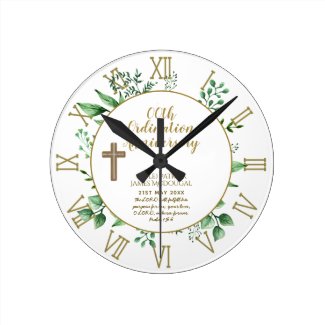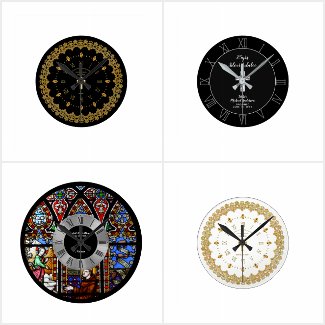 This decorative wall clock is one of many in this collection of ordination anniversary gifts for Priest, Deacon, Minister, Pastor that features 3 template text fields allowing you to add:
Date the Priest was ordained or the ordination anniversary in years.
Priest Name and Title
Bible Verse/Scripture or personal message
This decorative, commemorative wall clock can be given for any ordination milestone including silver and golden jubilee (25th and 50th).

The design featured has watercolor leaves which will appeal to many clergy members as they often enjoy the outdoors, nature and gardening in their spare time.
It includes a small cross, roman numerals and calligraphy style typography. It is a simple elegant design that will fit with any decor. Two circular sizes are available and one square.
More Ordination Anniversary Gift Ideas for Priests, Deacon, Minister, Pastor, Bishop, Nun here: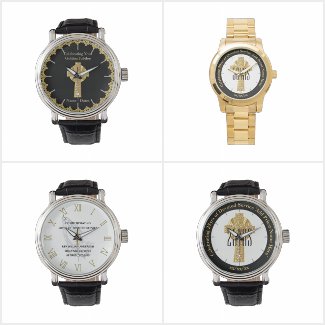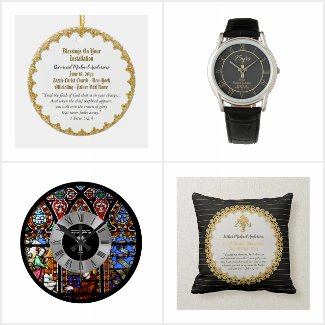 Priest's and other clergy enjoy gifts that have a practical as well as decorative purpose and hence the gifts featured in this
Catholic Gift store
generally fulfill that purpose, ensuring your Priest enjoys his/her gift for many years.
You can also edit the text on any of these gifts for other occasions including Priest Retirement, leaving the Parish, newly ordained and more.


SHARING
If you are sharing this post or images you will need 'hashtags'. Here are some you can 'copy and paste' to make the process easier.
#giftideasforpriests #ordinationanniversary #catholicgifts #faithgifts #catholigiftshop #Priestgifts #golderjubilee #silverjubilee
For assistance or custom design contact Designer LeahG via the Zazzle product page for this item.